I was browsing around today and come across a couple Bag Blog events going on.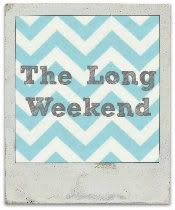 Participants of the Long Weekend Blog Hop are sewing
Amy Butler's Weekender Bag
. I've never made this pattern but I do really like the look of the bag and have read quite a few blog posts about it. It seems to be a challenging bag but with a great result. Check out some of the particpants to oogle some bags.
This upcoming event is all about Pouches! Hopefuly I'll have some time to take part by making a pouch or two.. The
flickr pool
is already open, so I'm going to start with my
magentic top pouch
.
I love these kind of events. I'm new to them, so if you know of anymore bag related events going now or in the future let me know!



And a quick shout out to