I love buying fabric. Probably many of you reading can relate.. But here's my problem.. If I really like a fabric, I save it. I don't use it, because in my head I need to save it for the perfect project. But then it sits there in my rubbermaid for forever.

Ladies, I'm a fabric hoarder..

A while back I came across this fun fabric in an online store



Michael Miller - Zap, Multi

I debated getting it but held off because I had no immediate use for it. I thought about maybe doing my son's "big boy" room in a super hero theme and somehow using it, but since he has really no idea who any super heroes are at this point, I figured I'd hold off. Great restraint, right?
Then last week, I came across a
reversible super hero cape tutorial
.. And suddenly I had visions of capes with one side with this fabric and the other side with an initial. I'd make one for my son, my nephew and my son's friend whose birthday party was in a few days.
I emailed the store whose warehouse is somewhat close to my husbands work. They only had 2 yards of it left so of course I had to get buy it and my husband actually left work early to pick it up since they closed earlier than his normal finish time. Fabric is important, darnit!
He brought it home, I loved it.. too much. I second guessed using it for the capes. There must be a better use for it, no? So my son's friend didn't end up getting a superhero cape this weekend and I have some new fabric to hoard..
Here's another fabric I've been "saving":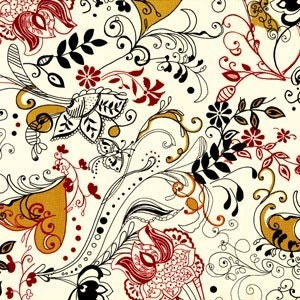 Red Fleur Tattoo Parlour Michael Miller Fabric
I bought 1/2 yard - 3 years ago. At that time I was only make small pouches. I used a small piece and the rest has been in my "save for perfect project" pile.
I am taking part in the
Sew Delicious Sweet Pouch Swap
and just got assigned the person to send to. I think this fabric would be perfect for her based on the description I got, so I **might** use it. I'm hesitant because I don't think this fabric is available anymore. What if I want to use it for something else in the unforeseeable future.. then what? Ahhhh.. to hoard or not to hoard.. :)
Maybe I'll take a trip to my local fabric store, if there's nothing else that seems suitable, I'll use it.. OK? OK..