A few exciting things coming soon to this blog .. well exciting for me at least!

I will be doing my first giveaway on Monday! It has something to do with this lovely blog:


I also will be particpating in my first blog hop in a couple weeks.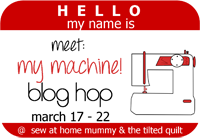 You'll get to know a bit about my sewing machine and sewing workspace.
Make sure to drop by for both!